Rug Stripping
Most oriental rugs imported in the U.S. during the mid-20th century were heavily dyed which prevented them from shining like jewels. While most carpets have fibers that are overdyed, various color finishes enhance color and increase value.
A decade ago, burgundy and other deep hues were the colors of choices for rugs. However, in today's market, a more antique appearance is desirable. This look can be achieved by a process called stripping.
What Is Rug Stripping?
The stripping process allows us to achieve a very desirable aged color and look with a permanent reduction of pigment strength (10 to 40 percent). This process is inspired by the colors of true antique rugs.
For example:
Burgundy transforms into coral, salmon or brown/red.
Indigo changes to much lighter blue.
Green becomes yellow/green.
Beige adjusts to a light brown.
Yellow shifts to gold.
Rug Stripping Benefits
Results in softer, translucent, true antique colors.
Creates an unusual and much more expensive look – the color appears aged and uncommon, like an authentic and rare antique.
Eliminates color inconsistencies.
Please feel free to contact us at 800-RUG WASH or info@rugwash.com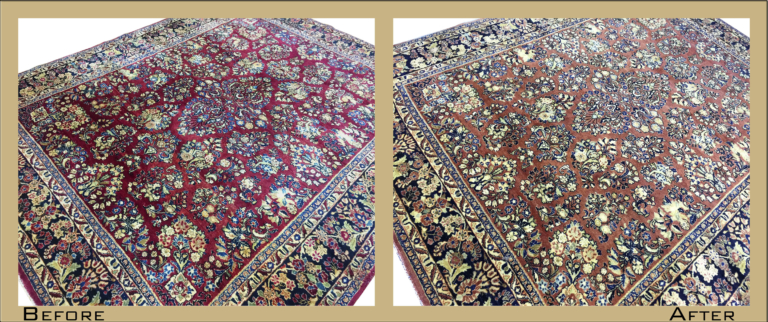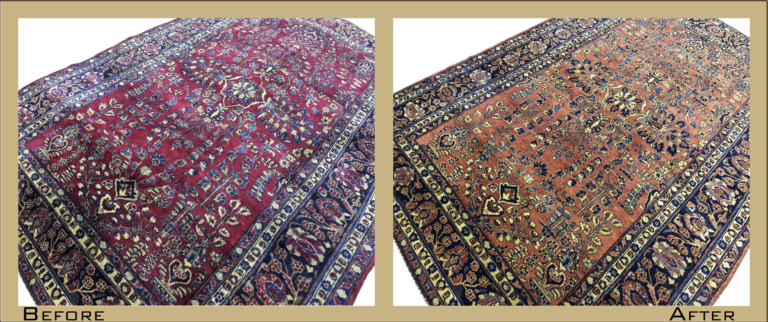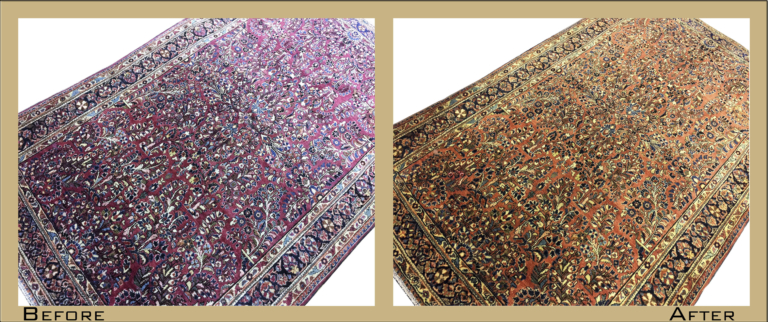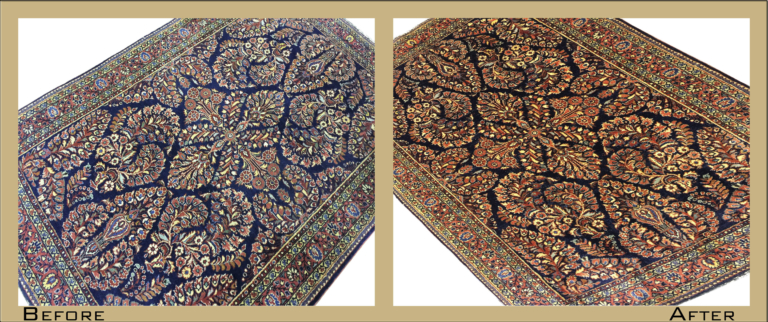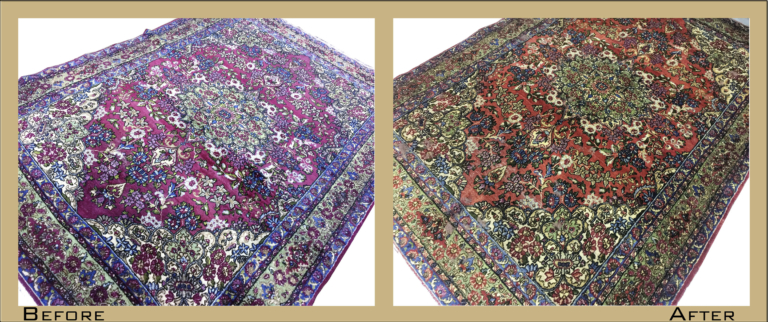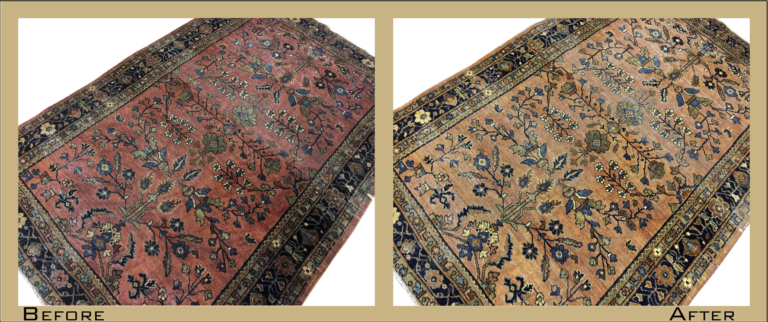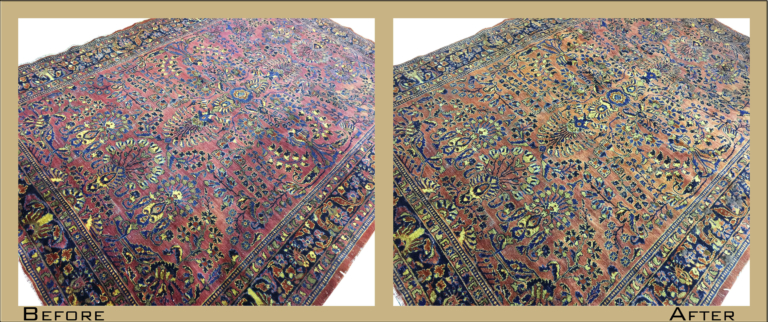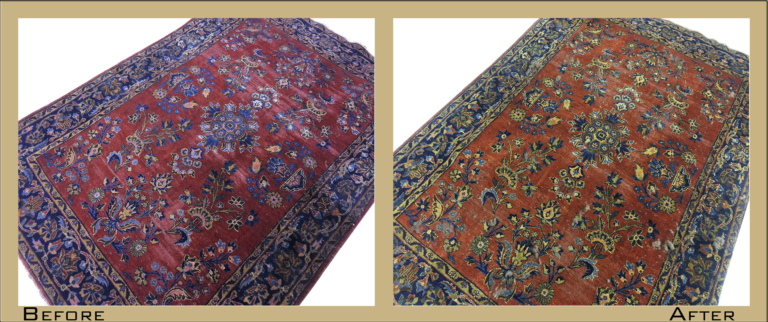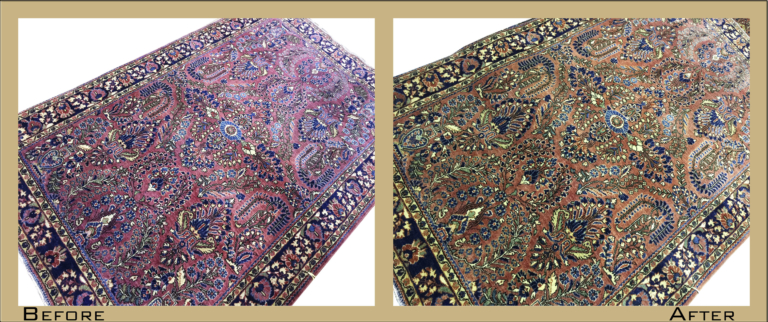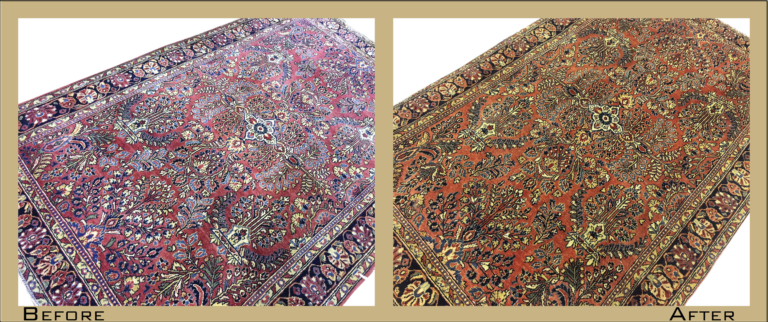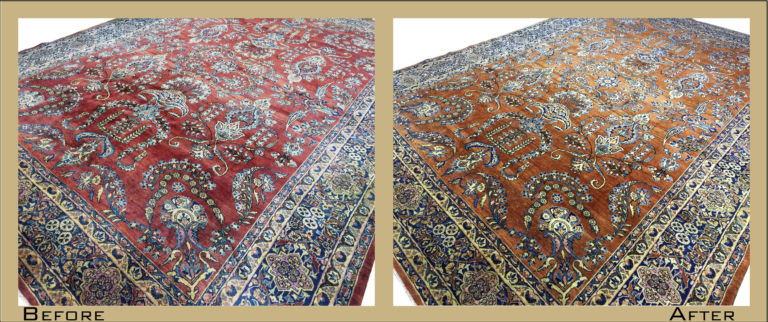 Stripping a Sarouk rug typically refers to the process of removing the existing color from the rug in order to prepare it for a new dye or color treatment. However, it's important to note that altering the original color of a Sarouk rug is a significant decision and can affect its value and authenticity.
If you are considering stripping a Sarouk rug, I would advise caution and recommend consulting with a professional rug expert or conservator who specializes in Oriental rugs. They will have the knowledge and expertise to guide you through the process and help you make an informed decision.
Keep in mind that Sarouk rugs are known for their unique color palette, typically featuring deep reds, blues, and ivory. These rugs are highly regarded for their traditional designs and rich hues. Altering the color of a Sarouk rug may diminish its historical and aesthetic value.
If you are looking to refresh or restore a Sarouk rug without altering its original color, professional rug cleaning and restoration services can be a better option. They can help remove dirt, stains, and odors, while preserving the rug's authenticity and natural beauty.
Remember, when dealing with valuable or antique rugs like Sarouk rugs, it's crucial to seek expert advice to ensure the proper care and preservation of these treasured pieces.
We at Rug Wash maintain the highest standards. We perform a thorough final inspection to each and every rug. Our goal is customer satisfaction. We don't hesitate to repeat any steps that might be necessary to provide you with the best results possible. It's that final touch that means so much.
FREE Estimates
FREE Pick-Up & Delivery
FREE Drop-Off
NO Mileage Charges
NO Hidden Charges
Certified technicians
Fully Licensed, Insured and Bonded
Rug Wash, Inc. is located in New York City but offer our services nationwide. Contact us for more information (800) 784-9274