Tips For Maintaining Your Rug(s)
If you happen to spill your coffee, tea or other liquids on your rugs, one of the best ways to maintain that rug, is to tend to it right away. Just by dabbing your rug with a wet cloth and using mild soap you can lighten the stain and this will make your rug last longer.
Typical maintenance for a rug includes:
1. Make sure that you have adequate light in the room, this will prevent moths and insects from getting to your rug.
2. Not vacuuming your rug, vacuuming will eat the pile of your rug instead shake or beat your rug. Smaller rugs can be shaken by hand to loosen dirt and other dust particles. Larger rugs can be beaten using a handle, after suspending it over a fence or a clothesline.
3. Getting it professionally cleaned every 2-3 years.
4. Use a cloth or sponge to absorb any liquids that fall on your rug right away.
5. Rotate Your Rug – Rotate or turn your rug in order to avoid excessive fading or deterioration of a particular portion of your rug and to prevent
uneven wearing of your rug.
6. Use proper padding for your rug – Padding helps in protecting and maintaining the shape of your rug. There are different types and qualities of padding.
7. Store the unused rugs properly – Clean the rug thoroughly, wrap it in clean non-plastic material and then store it in a dry place, if you are not going to use the rug.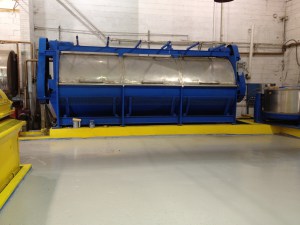 Our Facility & Rug Cleaning Equipment
In 2012, Rug Wash, Inc. purchased a simple washing machine that included three departments and turned it into a custom made Oriental rug washing machine. Our rug cleaning machines have the capacity of washing 1,000 sq ft of rug and holding 4,000 gallons of water in only one load. Each load takes about an hour to finish. This wonderful custom made rug washing machine leaves rugs looking sparkling clean.
Click here for more information.
Click here for Rug Cleaning 101
Click here to view some of our Rug Cleaning Videos