Rug Cleaning Videos
Below are some of our Rug Cleaning videos for our clients throughout the New York Tri-State and Metropolitan Area and across the United States. Our factory in the northeast is located minutes from NYC!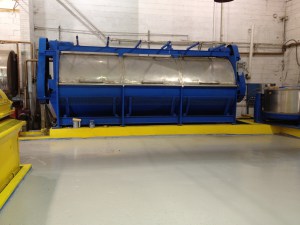 Our Facility & Rug Cleaning Equipment
In 2012, Rug Wash, Inc. purchased a simple washing machine that included three departments and turned it into a custom made Oriental rug washing machine. Our rug cleaning machines have the capacity of washing 1,000 sq ft of rug and holding 4,000 gallons of water in only one load. Each load takes about an hour to finish. This wonderful custom made rug washing machine leaves rugs looking sparkling clean.
Click here for more information.
Click here for Rug Cleaning 101
Click here for Rug Cleaning Tips
We at Rug Wash maintain the highest standards. We perform a thorough final inspection to each and every rug. Our goal is customer satisfaction. We don't hesitate to repeat any steps that might be necessary to provide you with the best results possible. It's that final touch that means so much.
FREE Estimates
FREE Pick-Up & Delivery
FREE Drop-Off
NO Mileage Charges
NO Hidden Charges
Certified technicians
Fully Licensed, Insured and Bonded
Rug Wash, Inc. is located in New York City but offer our services nationwide. Contact us for more information (800) 784-9274